National Farm Safety and Health Week 2021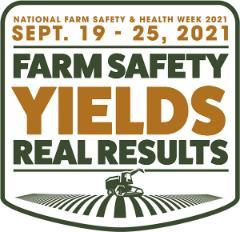 Farm Safety Yields Real Results
September 19-25, 2021
Logo Download Links:
2021 NFSHW Logo (JPG)
2021 NFSHW Logo, Black/White (JPG)
Logo design by the Illinois Farm Bureau.
Daily Topics of Focus
Monday, September 20, 2021 - Tractor Safety & Rural Roadway Safety
Tuesday, September 21, 2021 - Overall Farmer Health
Wednesday, September 22, 2021 - Safety & Health for Youth in Agriculture
Thursday, September 23, 2021 - Agricultural Fertilizer & Chemical Safety
Friday, September 24, 2021 - Safety & Health for Women in Agriculture
Sponsors
History
The 2019 data for the U.S. Bureau of Labor Statistics indicates that the agricultural sector is still the most dangerous in America with 573 fatalities, or an equivalent of 23.1 deaths per 100,000 workers. Fall harvest time can be one of the busiest and most dangerous seasons of the year for the agriculture industry. For this reason, the third week of September has been recognized as National Farm Safety and Health Week. This annual promotion initiated by the National Safety Council has been proclaimed as such by each sitting U.S. President since Franklin D. Roosevelt in 1944. National Farm Safety and Health Week is led by the National Education Center for Agricultural Safety (NECAS), the agricultural partner of the National Safety Council.
Related Pages